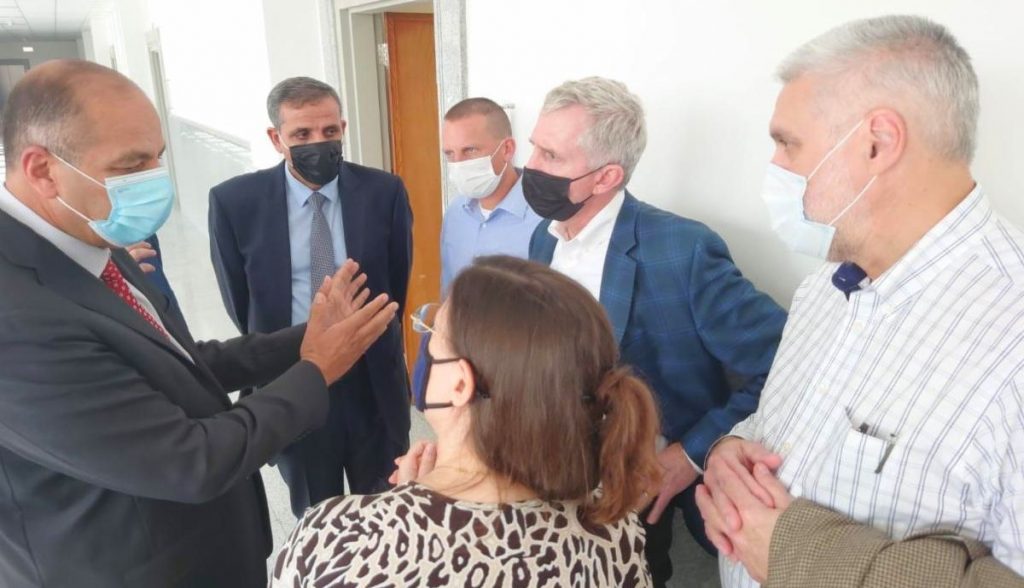 FSVC Volunteer Expert Peter E. Deegan (second from the right) with Judicial Institute Staff
Amman, Jordan, November 2021
---
With funding from the U.S. Department of State's Bureau of Counterterrorism, FSVC is assisting Jordan in improving the country's capability to investigate, prosecute, and adjudicate terrorism financing, and address areas weaknesses identified in the 2019 Financial Action Task Force (FATF) Mutual Evaluation Report. As a part of this effort, FSVC volunteer expert Peter E. Deegan (former U.S. Attorney) held a workshop for 13 trainers at the Judicial Institute of Jordan in November 2021. Mr. Deegan shared his experience as an FSVC volunteer expert.
Why did you choose to become an FSVC volunteer expert?
It looked like a very interesting and worthwhile opportunity. I was in public service in the United States for almost 23 years and recently joined the private sector. I think strengthening financial systems around the world is worthwhile and this was really a way for me to continue contributing to the broader community after working in the public service.
Could you please tell us about the project you recently conducted in Jordan?
It was a train-to-trainer workshop where me and two former U.S. law enforcement agents were tasked with sharing our knowledge in money laundering investigations. The participants from the program were very experienced judges and public prosecutors. The goal was to better equip them to conduct more robust investigations to combat money laundering and terrorism financing in Jordan using the new law in that area.
What has been the most memorable part of the project?
We had energetic, robust discussions with the participants and were able to spend quite a bit of time discussing how to overcome some of the challenges that the officials in Jordan face when conducting investigations. We also shared meals together and had the good fortune of being invited to one of the judges' homes for a wonderful lunch. That was special and rewarding.
Would you be interested in volunteering with FSVC again?
Absolutely, I would. This type of project takes a lot of work to prepare and implement, but it is worthwhile and very fulfilling.It is a great way to help other countries and other communities in a very meaningful way. It is also a great way to build community and goodwill at an international level. It is wonderful to be able to interact with folks overseas, learn more about the types of problems they are facing and hopefully make some contribution.