Moldova: Launching a Single Central Securities Depository

---
From left to right: J. Andrew Spindler (President & CEO, FSVC), Vladimir Munteanu (First Deputy Governor, National Bank of Moldova), Karen Hilliard (Charge d'Affaires, U.S. Diplomatic Mission to Moldova) and Octavian Armasu (Governor, National Bank of Moldova); Chisinau, May 2019.
---
On May 21, FSVC organized a high-level meeting and reception in Chisinau to celebrate the launch of the single Central Securities Depository (CSD) in Moldova. Over 80 representatives from public and private institutions attended the event, which was televised nationally. The speakers included Octavian Armasu, Governor of the National Bank of Moldova (NBM), Karen Hilliard, Charge d'Affaires of the U.S. Diplomatic Mission to Moldova, and J. Andrew Spindler, FSVC President and CEO.
Until 2018, the Moldovan financial infrastructure for securities was largely manual, paper-based and outdated. Two CSDs operated, along with ten independent Registrars. To help modernize the Moldovan financial infrastructure and follow international best practices in securities settlement, FSVC has worked with the NBM since February 2017 to set up a single CSD that absorbs the functions of the existing CSDs and Registrars.
A single CSD is a critical element of sound and transparent financial infrastructure, and helps ensure greater risk management in the clearance and settlement of securities transactions across all instruments and investor classes. These transformational changes represent an important steppingstone in establishing confidence in Moldova's financial infrastructure and will ultimately help increase investment in Moldova.
Over the course of two and a half years, FSVC worked closely with the NBM and the CSD team to design the complex, detailed regulatory and institutional framework needed to create the new CSD. FSVC helped draft rules and regulations covering topics ranging from risk management to oversight, operations, audit and IT, among others.
As a result of this long-term program, Moldova launched a single CSD that provides new functionalities associated with modern CSDs, and is positioned to be in compliance with international standards. As of April 30, 2019, the new CSD had successfully executed 5,339 operations worth a total of 14.84 billion Euros.
---
Tunisia: Increasing Public Access to Government Information

---
Tunisia's Minister of Public Service, Modernization of Administration and Public Policy, Kamel Morjane (third from left), honoring Onshor for its exceptional contribution to enhancing public access to government information; Tunis, March 2019.
---
With support from the U.S. Department of State's Middle East Partnership Initiative (MEPI), FSVC is implementing a highly-successful program called "Onshor" ("disclose" in Arabic), focused on helping the Government of Tunisia share data with the public in an effort to increase transparency and accountability.
The success and impact of the program have been tremendous, with results far exceeding initial expectations. Highlights include FSVC's launch of three portals to host data from the Ministries of Agriculture, Transport and Municipal sectors in Open Data formats (i.e., machine-readable formats that are re-usable). The portals now host more than 720 datasets, which alone greatly exceeds the number of datasets made available by other countries in the Middle East and Africa.
FSVC is also making it easy for Tunisians to request data from their government. To do so, FSVC recently launched Informini.org, an easy-to-use right-to-information platform where citizens can directly request information from government institutions. More than 425 requests have been submitted so far, with a 35% response rate from the government, which is an exceptionally strong result for this type of platform.
The opportunities presented by government data are endless. For example, the Municipality of Bouarada was able to collect $28,000 in back taxes after disclosing a list of businesses that had not paid their municipal taxes. FSVC has also helped startups identify creative ways to re-use the data to create new products and services.
---
Eswatini – Strengthening Budget Oversight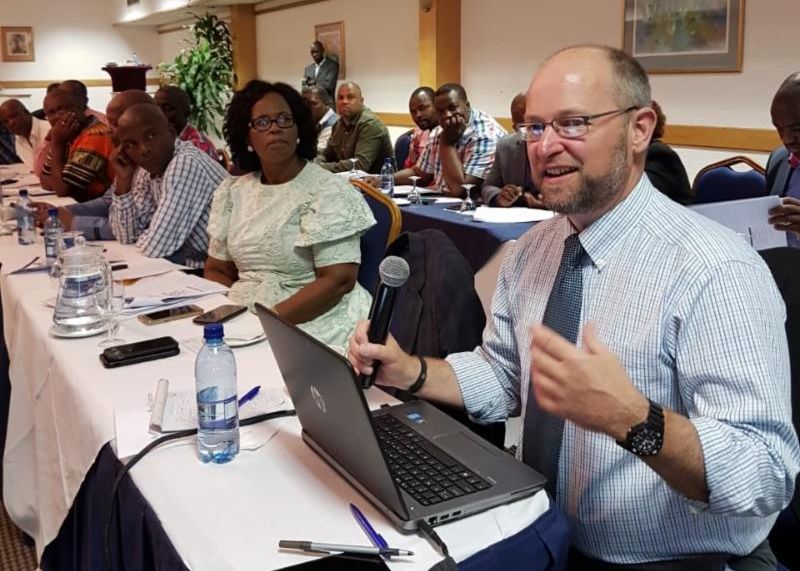 ---
FSVC volunteer expert Stuart Poole and participants; Mbabane, May 2019.
---
The Kingdom of Eswatini is facing a growing budget deficit and the government therefore is seeking ways to strengthen how it plans and executes its budget. One critical way to do so is to ensure strong parliamentary oversight of the budget process.
To help enhance budget management in Eswatini, FSVC organized a four-day workshop in May with Members of Parliament (MPs) on the budget cycle, and budget approval and oversight process. FSVC volunteer experts David Lara (Chief Administrative Officer, City of New York) and Stuart Poole (Assistant Chief Budget Examiner, New York State Division of Budget) presented international best practices in approving budgets. They also discussed ways to improve transparency of government operations and enhance public trust in government.
As a result of this project, MPs are better equipped to scrutinize budgets for improved execution and oversight. As such, the Parliament of Eswatini will be better positioned to play its role of representation and oversight in the budget process.
---
FSVC Welcomes Former Citi Vice Chairman William Mills to Board of Directors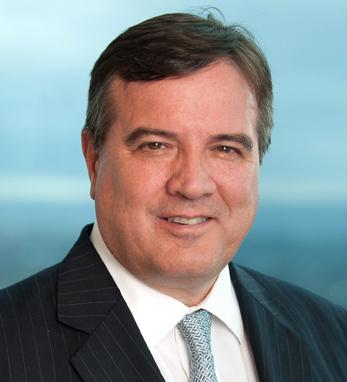 FSVC is pleased to welcome William Mills to its Board of Directors. Mr. Mills was most recently Vice Chairman at Citi, and CEO of North America, where he was in charge of Citi Holdings, Citi Community Development, Citi's business in Japan, and International Franchise Management in approximately 100 countries around the globe. From 2003 to 2011, he was CEO of Europe, the Middle East and Africa (EMEA), where he was responsible for the performance of Citi's broad range of client segments throughout the region, including consumers, operations, institutions and governments. Prior to his EMEA appointment, Mr. Mills was responsible for Salomon Smith Barney in Asia. He was a Board Member of CitiFinancial Credit Company, Citigroup Global Markets, Inc. (CGMI) and the Citi Foundation. He is currently a Board Member of City Harvest, Chairman Emeritus of the Business Council for International Understanding (BCIU) and a Fellow of the Foreign Policy Association.