Strengthening Parliamentary Budget Oversight in eSwatini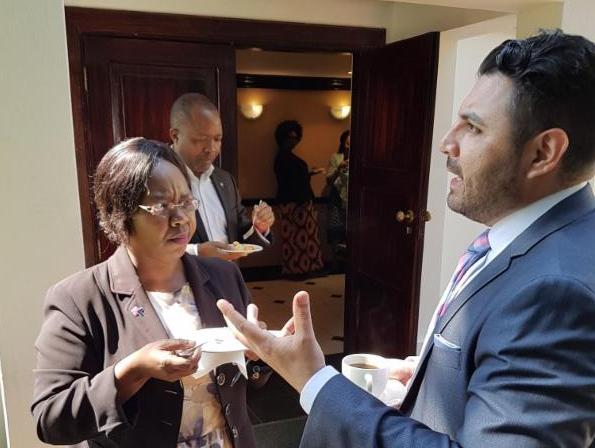 ---
FSVC volunteer expert David Lara (right) speaks to a permanent staff member of Parliament; Mbabane, September 5, 2018.
---
With a growing budget deficit and a need to develop the country's economy, the Government of eSwatini (formerly Swaziland) is seeking to improve the planning and execution of its national budget. For eSwatini and other emerging market countries, the national budget is a key economic policy and development tool for governments that aligns a country's priorities and needs with its means and resources.
In early September, FSVC volunteer experts David Lara (Chief Administrative Officer, NYC Office of the Mayor) and Stewart Poole (Assistant Unit Chief, New York State Division of Budget) trained permanent staff from eSwatini's Parliament in the budget formulation process, and how to provide input in the drafting of budgets in a proactive way. Using case studies from eSwatini's 2017 budget, FSVC volunteer experts showcased practical ways for Parliament to represent the interests of constituents through responsible government spending.
As a result, permanent Parliamentary staff have a better understanding of the budget cycle, and of the legislative branch's role in scrutinizing budgets for improved execution and oversight. Parliamentary elections took place on September 21, and permanent staff can now impart the new information to the incoming class of Members of Parliament.
---
Algeria: Building the Organizational Capacity of Local Business Incubators
---
FSVC volunteer experts Lisa Ocampo (right) and Farhan Kalaldeh (second from right) meet with local business incubator staff from the Haba Institute; Algiers, September 20, 2018.
---
FSVC is working with local business incubators to provide innovative services to start-ups and entrepreneurs in Algeria. In September, two FSVC volunteer experts met with three Algerian business incubators to evaluate their current procedures, including selection criteria, and provided each of them with a SWOT (Strengths, Weaknesses, Opportunities, Threats) analysis.
By strengthening the internal operations of these incubators, FSVC is helping to ensure that Algerian start-ups receive quality business and financial advisory services that help them attract venture capital investments. Start-ups are especially important in Algeria, as they create employment opportunities in a region of the world where jobs are urgently needed.
---
Ukraine: Strengthening Credit Risk Management at Leading Commercial Bank
---
FSVC volunteer experts David Streeter (standing) and Dennis Britt (right) discuss credit risk policies with Bank Vostok staff; Odessa, September 1, 2018.
---
Ukrainian banks have one of the highest non-performing loan (NPL) ratios in the world at 56.5 percent. To help address this problem, FSVC is working to strengthen the commercial banking sector in Ukraine.
In September, two volunteer experts met with Bank Vostok in Odessa to help the bank better evaluate and price credit risk, with the objective of reducing the bank's NPL portfolio. The volunteer experts discussed with Bank Vostok's senior management the key risks facing the bank and the current business environment. They also reviewed the bank's underwriting practices and loan files, conducted branch visits and interviewed staff to assess adherence to bank policy. The FSVC team then provided recommendations to the bank's Board and senior management on how to strengthen overall credit risk management policies and procedures.
These recommendations will help the bank assess more accurately the creditworthiness of new and existing clients, to help ensure that loans are repaid on time and in full.
---
Register Today: Panel Discussion on New Financial Technologies
Please join us for a panel discussion on
New Financial Technologies: The Opportunities and Challenges for
Emerging Market Countries
Speakers will include William J. Burns (President of the Carnegie Endowment for International Peace and Former U.S. Deputy Secretary of State);
Adam J. Szubin (Of Counsel, Sullivan & Cromwell and Former Acting U.S. Under Secretary of the Treasury for Terrorism and Financial Intelligence); and
J. Andrew Spindler (FSVC President & CEO). The panel will be
moderated by Michelle Caruso-Cabrera of CNBC.
A reception will follow.
Date: Tuesday, October 30, 2018
Time: 5:30 p.m. – 7:30 p.m.
Location: The University Club, 1 West 54th Street, New York, NY