Ethiopia: Modernizing the Government's Accounting System
The Ministry of Finance (MoF) of Ethiopia has adopted a five-year strategic plan to modernize the accounting system of the Government of Ethiopia. The MoF aims to adopt International Public Sector Accounting Standards (IPSAS), a set of internationally-accepted accounting principles that help strengthen public financial management.
At the request of the MoF, in January, FSVC conducted a mission to assess the MoF's readiness to embark on this process and upgrade its accounting system. Three FSVC consultants conducted an in-depth assessment of the MoF's institutional and organizational capacity, and identified gaps that must be addressed in order to adopt IPSAS. Following the in-country mission, the FSVC consultants drafted a detailed timeline for the implementation of IPSAS at both the national and local levels, as well as a proposed implementation action plan and a cost estimate for the full accounting transition.
The adoption of IPSAS is a critical tool for better-informed and more effective public financial management, and for greater fiscal accountability and transparency.
---
Algeria: Building the Capacity of Business Incubators
In recent years, the field of entrepreneurship has grown considerably in Algeria, prompting the development of business incubators to support emerging startups. Some incubators are well established and have supported many startups. However, as the first players in this field, these incubators encounter various challenges, mostly in terms of management and service delivery.
To help address these weaknesses in the Algerian entrepreneurial ecosystem, in January, FSVC held consultations with Algerian business incubators on enhancing their managerial strategies and providing better services to entrepreneurs. Two FSVC volunteer experts met with six business incubators during one-on-one sessions to discuss their respective managerial practices and offer of services. The volunteer experts provided recommendations to each business incubator, and shared international best practices and success stories from Ghana and the U.S., where they were from.
Thanks to this project, Algerian business incubators have developed action plans to strengthen their managerial strategy, and improve the services they provide to startups. FSVC's expertise will help these incubators better engage and connect to the Algerian entrepreneurial community, which is critical to stimulating innovation and creating jobs.
---
Niger: Official Launch of the SHIGA Project
On January 24, FSVC, in close cooperation with the U.S. Embassy in Niger and the Office of the Prime Minister of Niger, officially launched its Sahel Human Voice in Governance Activity (SHIGA) project. This major FSVC program, funded by the U.S. Agency for International Development (USAID), focuses on 1) building the capacity of civil society organizations to advocate for reform, 2) strengthening the accountability, efficiency and transparency of targeted government institutions, and 3) creating spaces for constructive engagement among citizens, civil society and the state.
During the conference, the U.S. Ambassador to Niger, Eric P. Whitaker, the FSVC Chief of Party, Chavanne Peercy, and the Minister of Community Development and Territorial Planning, Amani Abdou, all gave speeches and expressed their support for FSVC's important mission.
This launch event was a fruitful opportunity to bring together civil society and government representatives to explain the common goals of SHIGA and encourage collaboration to achieve constructive engagement on policy reform.
---
FSVC Welcomes Former Member of the European Central Bank's Executive Board to Board of Directors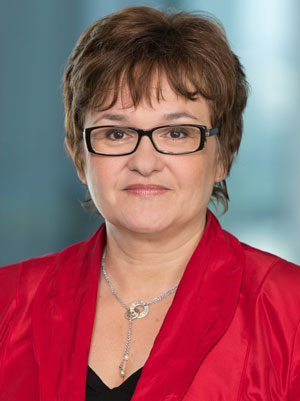 FSVC is delighted to welcome to its Board Sabine Lautenschäger, former Member of the Executive Board of the European Central Bank (ECB). During her six-year tenure at the ECB, Ms. Lautenschäger also served as Vice-Chair of its Single Supervisory Mechanism. She was previously Deputy Governor of the Deutsche Bundesbank from 2011 to 2014.
FSVC President & CEO Andrew Spindler stated, "We are thrilled that Sabine is joining FSVC's Board. Sabine's reputation in the international financial regulatory community is tremendous, and her experience will be invaluable to our efforts."