Angola: Assessing the Banking Sector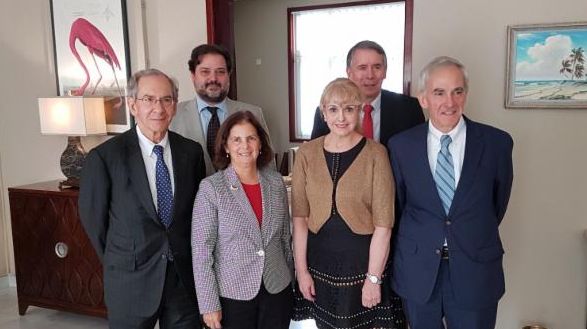 ---
From left: Andy Spindler, Mourad Baly, U.S. Ambassador to Angola Nina Fite, Lauren Pickett, John Douglas, John Walker; Luanda, February 1, 2019.
---
At the request of the National Bank of Angola (BNA), FSVC conducted a review of the overall state of the Angolan banking sector. The purpose of the mission was to assess the overall health of the Angolan banking sector and identify steps to strengthen it. Angola is the third largest sub-Saharan African economy, and its banking sector today is a unique product of Angola's colonial history, its 27-year civil war, and the 38-year administration of Angola's previous President. The last period resulted in a high level of interconnectedness among the country's political elite, certain banks and important large enterprises that emerged in a largely centrally planned economy.
The FSVC team that conducted the assessment mission included John L. Douglas (FSVC Board Member and Senior Executive Vice President and Chief Oversight and Advocacy Officer, TIAA), John L. Walker (FSVC Board Member and retired Partner, Simpson Thacher & Bartlett LLP), Lauren L. Pickett (Director, Anti-Money Laundering and U.S. Sanctions Group, SIA Partners), J. Andrew Spindler (President & CEO, FSVC) and Mourad Baly (Country Director, FSVC).
Over the course of five days, the FSVC team met with senior-level representatives from the BNA, Angolan banks, Chevron, the Angolan Banking Association (ABANC), the U.S.–Angola Chamber of Commerce and the International Monetary Fund (IMF), among other institutions. These discussions focused on several key issues, including: 1) the high levels of Angolan government bonds held by banks, and of non-performing loans (NPLs) to private borrowers; 2) the quality of the BNA's bank supervision and how to enhance supervision; 3) the status of anti-money laundering/combating the financing of terrorism (AML/CFT) laws and regulations in Angola, and their enforcement;
4) issues related to the connection of the Angolan banking sector to the international financial system; and 5) how the Angolan banking sector can support economic growth, job creation and financial inclusion.
As a result of this assessment mission, the BNA is receiving specific recommendations on measures to strengthen banking supervision and encourage lending activities that promote job creation, economic growth and diversification of the Angolan economy. Angolan banks will receive targeted guidance on how to strengthen their AML/CFT compliance programs as well as credit-origination capacity, among other topics.
---
El Salvador: Strengthening Anti-Money Laundering Compliance
---
FSVC volunteer experts Ricardo Leiva (left) and Michael Messier (center left) during a meeting with Fedecredito; San Salvador, December 2018.
---
In December 2018, two FSVC volunteer experts conducted a path-breaking FSVC project in Central America. The project focused on an assessment of the AML systems of Fedecredito, a key financial institution in El Salvador.
Established in 1943, Fedecredito is a regulated cooperative financial institution owned by 48 credit unions, 7 workers' banks and 1 insurance company, and operates across El Salvador. Fedecredito, through its members, provides a range of services to small- and medium-sized enterprises (SMEs) and consumers, including international remittances, which pose a high risk for money laundering.
Over the course of five days, the FSVC volunteer experts assessed the current AML policy and procedures at Fedecredito through in-depth consultations with the heads of compliance, operations, audit and risk management at its headquarters. They also met with three Fedecredito members to gain a better understanding of their activities and evaluate their level of compliance.
The FSVC volunteer experts then trained over 165 representatives from Fedecredito, including directors, managers and compliance officers, in international best practices in AML compliance. Topics included Know Your Customer (KYC) policies and procedures, an overview of the U.S. Foreign Account Tax Compliance Act (FATCA) and suspicious transaction reporting.
Through this project, Fedecredito received detailed recommendations on how to improve its AML compliance program. The project helped the institution strengthen its AML operations, policies and procedures to ensure they meet international standards.
---
Tunisia: Increasing Investment in Small Businesses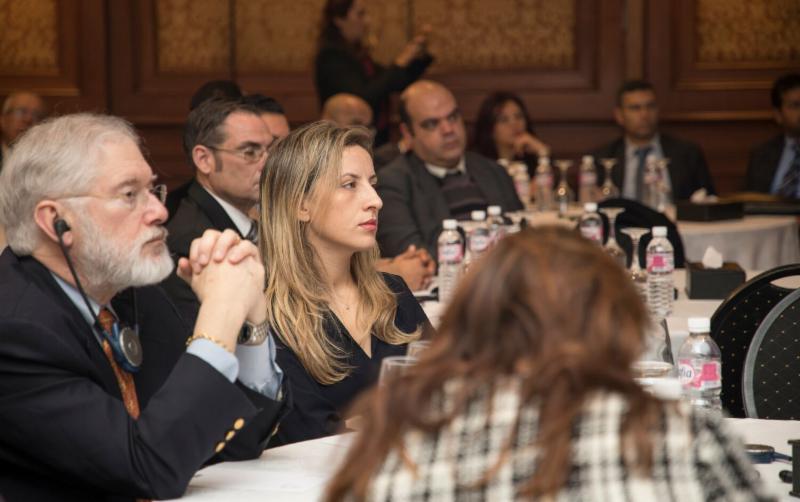 ---
FSVC volunteer expert Christopher Davis and FSVC Program Coordinator Ichraf Lajmi during a workshop session; Tunis, January 2019.
---
SMEs in Tunisia are the engine of job creation and economic growth. Viable SMEs, however, currently face great difficulties in accessing financing to grow their businesses. They often do not have traditional forms of collateral for bank loans and are not the preferred clients of private equity and venture capital (PE/VC) firms.
To address this challenge, FSVC organized a workshop in January to present a cutting-edge new alternative: revenue capital (RC). RC has the potential to bridge the gap between healthy SMEs in need of investment and PE/VC firms. RC has been successfully deployed in other countries, most notably in South Africa, and offers a commercially-viable risk-financing structure that is mainly invested in the form of a low-interest rate loan.
The FSVC volunteer experts presented the financial, legal and fiscal framework of RC in the Tunisian regulatory context. They also provided examples of successful RC structures internationally, and met with the Ministry of Finance, the Tunisian Financial Market Council, the VC Association and SME representatives to address each stakeholder's specific challenges and concerns.
As a result of this project, the Tunisian investment community is better equipped to develop an RC structure. RC will help unlock funds for SMEs with high potential for expansion, and help reduce entry barriers and exit constraints for SMEs.
---
Release of Memoirs by FSVC's Chairman and Honorary Chairman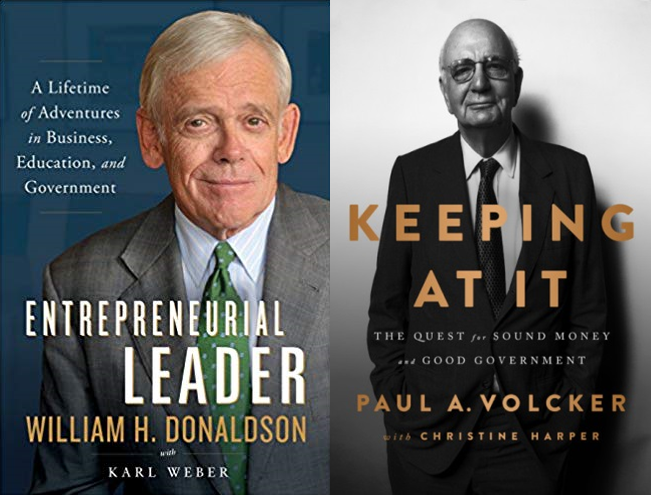 ---
FSVC Chairman William Donaldson and FSVC Honorary Chairman Paul Volcker released memoirs in late 2018, in which they share their insights and perspective based on their extraordinary careers.
Bill Donaldson, former Chairman of the U.S. Securities and Exchange Commission (SEC), published Entrepreneurial Leader: A Lifetime of Adventures in Business, Education and Government. In his memoir, Mr. Donaldson shares his observations from a series of leadership positions on Wall Street, at Yale University and in Washington, D.C.
Paul Volcker, former Chairman of the U.S. Federal Reserve Board of Governors, published Keeping at: It: The Quest for Sound Money and Good Government. The book provides a timeline of Mr. Volcker's outstanding achievements over a lifetime of public service.